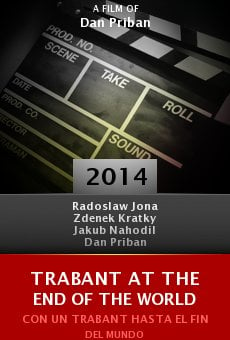 SINOPSIS [ Todo público ] Película de Dan Priban. Se presentó al público en 2014, con producción de República Checa. Es posible ver Trabant at the End of the World online en TV cable y/o cines con audio original en checo, subtitulada y doblada al español latino en diversos horarios.
Calificación: 5/5 con 10 votos.
Duración de película completa: 01:40:00 ( 1 h 40 min )
Reproducciones: 503
ELENCO PROTAGÓNICO
Radoslaw Jona, Zdenek Kratky, Jakub Nahodil, Dan Priban, Marek Slobodnik, Tomasz Turchan, Ales Vasicek y Dana Zlatohlavkova.
GÉNERO / TEMÁTICA
Documental.
DIRECCIÓN
Película completa en español latino dirigida por Dan Priban.
IDIOMA Y PAÍS DE ORIGEN
La película Trabant at the End of the World en idioma original posee audio en checo y fue producida en República Checa.
ESTRENO DE LA PELÍCULA
Se estrenó en cines y/o televisión en el año 2014. La edición en DVD full y Blu-Ray HD/4K de la película completa en buena calidad visual más trailer oficial, comentarios del director, escenas eliminadas y extras generalmente se comercializa luego de su estreno oficial en festivales o salas cinematográficas.
OPINIÓN DE LA CRÍTICA DE CINE
Excelente, amada por la crítica y con múltiples nominaciones a premios de la industria, una obra de arte. Te recomendamos que veas esta película.
PRODUCCIONES ASOCIADAS
Esta película fue producida y/o financiada por Endorfilm.
MÚSICA ORIGINAL
Música original compuesta por Tatiana Mikova.
DISTRIBUIDORES DE ESTE FILM
Distribuyeron comercialmente este film empresas como Aerofilms.
Trabant at the End of the World
Anuncio
Sin cortes comerciales ni intervalos, la película Trabant at the End of the World completa posee una duración de 100 minutos de video full HD; su tráiler oficial está disponible para ver en Internet. Puedes ver gratis esta película completa en español o checo en la programación diaria de HBO en vivo, alquilando la película en DVD o con servicios VoD (Video On Demand) y PPV (Pay Per View). No es posible descargar gratis Trabant at the End of the World por este medio.
Consulta la ficha de la película completa Trabant at the End of the World en FULLTV Películas.
PELÍCULAS RELACIONADAS