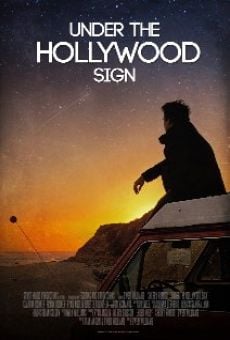 SINOPSIS [ Todo público ] Siendo una producción de Estados Unidos, este largometraje de 2014 ha sido excelentemente dirigido por Owen Williams. Es posible ver Under the Hollywood Sign online en TV cable y/o cines con audio original en inglés, subtitulada y doblada al español latino en diversos horarios.
Calificación: 4/5 con 15 votos.
Duración de película completa: 01:40:00 ( 1 h 40 min )
Reproducciones: 521
ELENCO PROTAGÓNICO
Owen Williams, Sherry Romito, Clayton Rohner, Frank Bonner, Ryan Anglin, Don McManus, Jenette Goldstein, Merry Grissom, Jeffrey Vincent Parise, Heidi Marnhout, Kavan Reece, Dario Deak, Jason O'Ffill, Matthew James, Matt Vasko y Sadie Katz.
GÉNERO / TEMÁTICA
Comedia, Drama.
DIRECCIÓN
Película completa en español latino dirigida por Owen Williams.
IDIOMA Y PAÍS DE ORIGEN
La película Under the Hollywood Sign en idioma original posee audio en inglés y fue producida en Estados Unidos.
ESTRENO DE LA PELÍCULA
Se estrenó en cines y/o televisión en el año 2014. La edición en DVD full y Blu-Ray HD/4K de la película completa en buena calidad visual más trailer oficial, comentarios del director, escenas eliminadas y extras generalmente se comercializa luego de su estreno oficial en festivales o salas cinematográficas.
OPINIÓN DE LA CRÍTICA DE CINE
Muy buena, lograron contar una buena historia y mantener al espectador en su butaca.
GUIÓN Under the Hollywood Sign
Escrito por Owen Williams y Ryan Anglin.
CINEMATOGRAFÍA
Cinematografía 1080p HD / 4K a cargo de Stefan Colson.
PRODUCTORES DE Under the Hollywood Sign
Ryan Anglin, Merry Grissom, Owen Williams, Ehren Koepf y Sherry Romito.
PRODUCCIONES ASOCIADAS
Esta película fue producida y/o financiada por Fighting Ant Productions y Spirit Hound Productions.
MÚSICA ORIGINAL
Música original compuesta por Jeff Garber.
Under the Hollywood Sign
Anuncio
Sin cortes comerciales ni intervalos, la película Under the Hollywood Sign completa posee una duración de 100 minutos de video full HD; su tráiler oficial está disponible para ver en Internet. Puedes ver gratis esta película completa en español o inglés en la programación diaria de HBO en vivo, alquilando la película en DVD o con servicios VoD (Video On Demand) y PPV (Pay Per View). No es posible descargar gratis Under the Hollywood Sign por este medio.
Consulta la ficha de la película completa Under the Hollywood Sign en FULLTV Películas.
PELÍCULAS RELACIONADAS