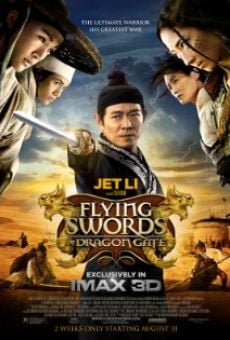 SINOPSIS [ Mayores de 16 años ] "Flying Swords of Dragon Gate" es un wu-xia protagonizado, por Jet Li en el que por añadidura se nos narra al historia de Chow Wai-on, un rebelde que lucha contra Tsao Sui San, el malvado líder eunuco del Lado Este, que intenta forjar su propio reino por medio la destrucción de los clanes rebeldes. La acción les llevará al desierto, en la posada de la "Puerta del Dragón", propiedad de la hermosa Jade King, interpretada por Zhou Xun. La pieza cinematográgica, que llegará a finales de 2011 a los cines de toda China, es un remake de la película de 1992, "New Dragon Gate Inn" de Raymond Lee, que a su vez era un remake del clásico de 1967 de King Hu, Dragon Inn. Es posible ver The Flying Swords of Dragon Gate online en TV cable y/o cines con audio original en inglés, subtitulada y doblada al español latino en diversos horarios.
Calificación: 3/5 con 5305 votos.
Duración de película completa: 02:01:00 ( 2 h 01 min )
Reproducciones: 2,197
ELENCO PROTAGÓNICO
Jet Li, Xun Zhou, Kun Chen, Lun Mei Gwei, Yuchun Li, Mavis Fan, Siu-Wong Fan, Chia-Hui Liu, Jiankui Sun, Chien Sheng, Yiheng Du, Shuangbao Wang, Jian Xue, Feixing Han, Bingyuan Li y Zhuo Li.
GÉNERO / TEMÁTICA
Acción, Aventura.
DIRECCIÓN
Película completa en español latino dirigida por Tsui Hark.
IDIOMA Y PAÍS DE ORIGEN
La película The Flying Swords of Dragon Gate en idioma original posee audio en inglés y fue producida en China.
ESTRENO DE LA PELÍCULA
Se estrenó en cines y/o televisión en el año 2011. La edición en DVD full y Blu-Ray HD/4K de la película completa en buena calidad visual más trailer oficial, comentarios del director, escenas eliminadas y extras generalmente se comercializa luego de su estreno oficial en festivales o salas cinematográficas.
OPINIÓN DE LA CRÍTICA DE CINE
Buena, cumple con su objetivo de entretener. La trama es interesante y los personajes se destacan.
GUIÓN The Flying Swords of Dragon Gate
Escrito por Tsui Hark.
CINEMATOGRAFÍA
Cinematografía 1080p HD / 4K a cargo de Sung Fai Choi.
PRODUCTORES DE The Flying Swords of Dragon Gate
Dong-ming Shi, Xiaoli Han, Dong Yu, Wenhong Yang, Edward Chi-yun Yi, Rui Gang Li, Hark Tsui, Jeffrey Chan, Nansun Shi y Sanping Han.
PRODUCCIONES ASOCIADAS
Esta película fue producida y/o financiada por Bona Entertainment, Shineshow, SMG Pictures, Beijing Poly-bona Film Publishing Company, China Film Co-Production Corporation, Beijing Liangzi Group, China Film Co., Shanda Pictures, Bona International Film Group y Film Workshop.
MÚSICA ORIGINAL
Música original compuesta por Han Chiang Li, Wai Lap Wu y Xin Gu.
DISTRIBUIDORES DE ESTE FILM
Distribuyeron comercialmente este film empresas como Long Shong Entertainment Multimedia Company, China Film Group Corporation (CFGC), New KSM, Golden Village Pictures, Newport, Golden Screen Cinemas, Distribution Workshop, Gaiam Vivendi Entertainment, IMAX, Indomina Releasing, Bona International Film Group, Showgate y Icon Film Distribution.
The Flying Swords of Dragon Gate
Anuncio
Sin cortes comerciales ni intervalos, la película The Flying Swords of Dragon Gate completa posee una duración de 121 minutos de video full HD; su tráiler oficial está disponible para ver en Internet. Puedes ver gratis esta película completa en español o inglés en la programación diaria de Cine Canal en vivo, alquilando la película en DVD o con servicios VoD (Video On Demand) y PPV (Pay Per View). No es posible descargar gratis The Flying Swords of Dragon Gate por este medio.
Consulta la ficha de la película completa The Flying Swords of Dragon Gate en FULLTV Películas.
PELÍCULAS RELACIONADAS